Batesville Products is one of the only foundries in the United States who casts both zinc and aluminum in the permanent mold process.
Aluminum Casting
Aluminum A356 is a versatile metal used across many industries: medical, food, energy, electrical, construction, transportation, and more.
Many engineers prefer aluminum in their assemblies because it is lightweight, yet strong. A356 castings can be T5 or T6 heat treated to further enhance its strength and mechanical properties.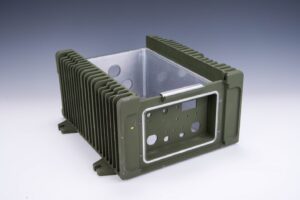 Aluminum is known for its electrical conductivity and heat transfer. Aluminum castings conduct heat well, especially when you design-in features such as ribs, fins, and pins.
Aluminum castings are durable and rust-resistant. Additionally, you can powder coat, anodize, or finish aluminum castings to enhance their professional look and corrosion resistance.
Zinc Casting
Majority of our castings are aluminum, but at Batesville Products, we also cast zinc ZA5 and ZA12.
There are two reason we cast zinc instead of aluminum: weight and surface finish.
Weight
Zinc is strong and heavier than aluminum, which is beneficial for medical cart bases, chair plates, or other components that must be heavy and sturdy.
Surface Finish
Zinc is the preferred casting material if you're looking for a highly polished part. Zinc is easier to mirror buff than aluminum, and can be chrome plated for extra shine.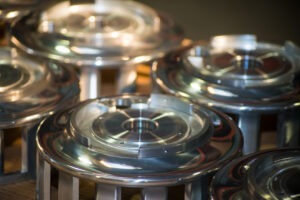 Learn More
Listen to our podcast episode to hear how aluminum and zinc compare to steel and iron.
More questions? Give us a call at 812-537-2275.