The Customer
This customer is in the food industry. They process waffles, so they needed a casting to fit onto their production machinery.
The Challenge
This product was originally produced by a sand foundry. But the customer wasn't satisfied with their supplier. The sand casting had porosity issues, so they gave permanent mold a try.
The Solution
Low porosity equipment is super important in the food industry! This prevents food particles and cleaners from leaking or seeping through the machinery, impacting sanitation and equipment longevity.
Thanks to special pouring methods and finite element analyses that reduce turbulence and air pockets, the permanent mold process creates low-porosity parts every time.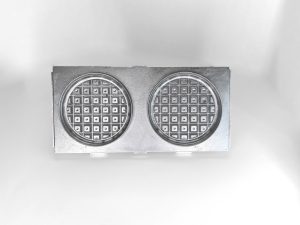 Design Engineering
This is a complex part with the many features and indentures. Therefore, our engineering team took extra consideration in heating and cooling during the solidification process.
Machining
These castings needed fit onto the customer's current production line. Therefore, a machining operation was required to ensure a perfect fit onto their equipment.
Due to the uniqueness of the part, the machining was complex. We boiled it down to a two-step program.
The Outcome
Permanent mold casting provides lower porosity and a better surface finish than sand casting, producing high quality products.
Overall, the customer received a better part to install on their food production equipment