Feel confident in every aspect of your next metalcasting project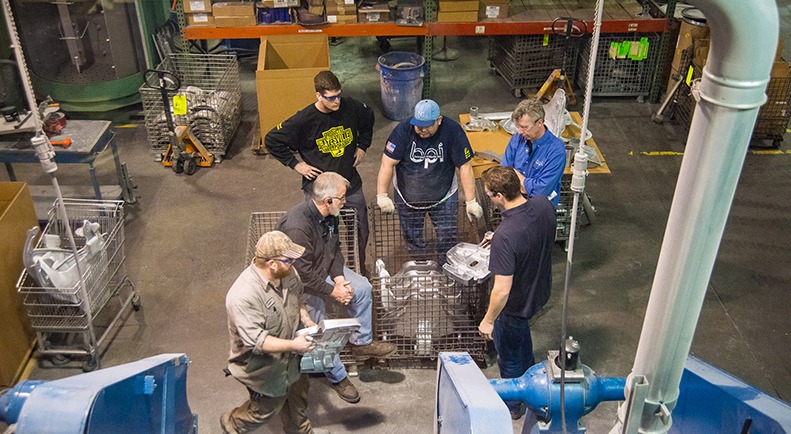 No potential metalcasting project is too premature for foundry assistance.
Permanent mold metalcasting is what we do all day, every day. We help customers develop the perfect castings from the ground up or assist those who need to reinvigorate a failed project.
We offer 75 years of experience with the latest technology and production strategies. Our designers and engineers know the process beyond the schematics. They're on the foundry floor, helping pour and machine different products every single day.
Our in-house training and education programs keep our team on the cutting edge of foundry developments. We can help you understand which design elements are enhancing your product and which are just dragging it down.
We'll get your product into production faster and see it through to completion.
If we look at the plan and decide permanent mold casting isn't the best process for your product, we will point out a better direction and a trusted foundry that can do the work.
Peace of mind is a consultation away
Know your constraints up front, before they can become a problem.
We want you to be confident after our first discussion that you've got the right team for the job. You'll learn right away what we can and cannot do for you. There shouldn't be any lingering anxieties about a partnership before we go into business.
From there, we really get to work.
All heads on deck meeting
All of our department heads meet for a kickoff meeting for every new project we work on, even if the department isn't initially intended to have a direct role in production. Your sales representative will be there to ensure all of your requirements are met.
Every aspect of the production plan and design is evaluated to address potential benefits and concerns. From design ergonomics to casting ejection to secondary machining, no detail is overlooked.
Transparency is key
Our process allows your company's leadership to know exactly how their dollars are going to work and the foundry technicians on the production floor can be confident that the process is as efficient as possible.
After the plan is in place, we'll follow up with the various departments once a week to keep things progressing according to schedule. We will also provide your team with updates so you aren't left in the dark on your own casting project.
The customer can see where their project is in the preparation process, such as if the mold is being cut, the core boxes blown or if the first prototype is ready.
Reinvigorating failed projects
Our location in the Rustbelt gives us ready access to many suppliers offering quality products and support.
We have the expertise and infrastructure to plan and perform complex permanent mold casting processes that many foundries can't. So we work with clients who have existing tooling and/or designs but couldn't make the process work.
For example, a client came to us after a project failed, but they needed to get a product out under the same timeline as originally scheduled. We put a rush on the work, figuring out what they need to succeed and what went wrong the first time. In the end, we delivered the product on time and the client knew who to call for their remaining metalcasting needs.
Design assistance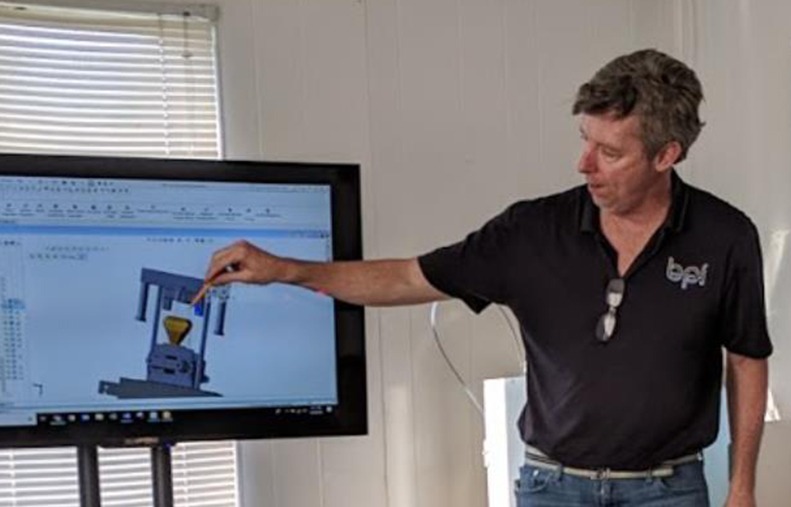 Our team likes to work on difficult projects especially those with challenging geometry.
We know how every aspect of a design will impact the casting process and what it will mean to your bottom line.
When you're working on complicated projects, it's important to spell out what's critical and what's not There are a lot of design elements that can be added to a casting, but none of them will matter if it isn't manufacturable. Your casting should be designed to serve its purpose without adding unnecessary production challenges.
Many designs come to us with elements that slow down or hinder the casting process and don't add value to the product. We often help companies sort through overly strict tolerance requirements, thin walls and ejection complications.
Engineering assistance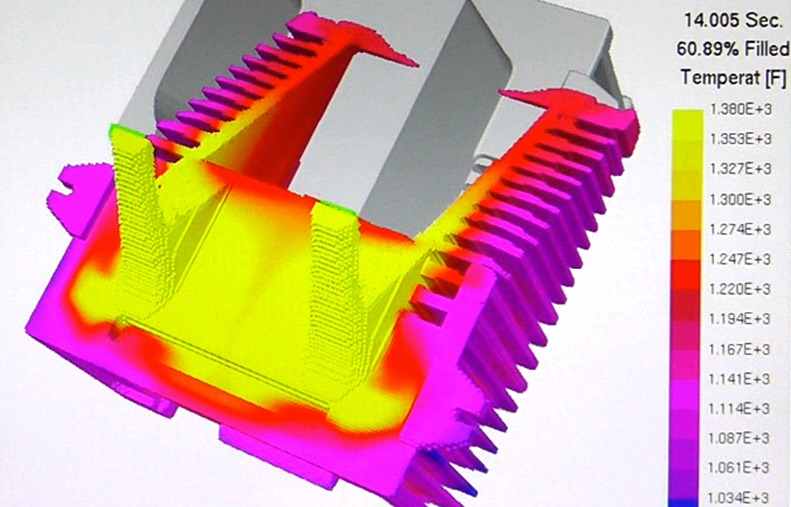 Once you've signed on to work with us and the designs are in order, our engineers will finalize the timeline. They'll be involved all the way through the production process, ensuring everything runs smoothly and making any necessary adjustments until you've got quality parts in hand.
There's a lot to think about when you're trying to perfect a metalcasting process.
Anything from the room's humidity and temperature to the barometric pressure affect how liquid metal solidifies on the granular level. Any oversight could weaken your castings, so we take everything into consideration so you have the densest final product possible.
Engineering mistakes often lead to part failures and increased scrap. We've helped clients that were wasting roughly a third of their material and found a much more consistent process.
The first step is developing a mold model using the current version of Solid Works. The model is sent to the mold maker, who analyzes the pour process using simulation software to understand how the molten metal will solidify within the mold and to ensure proper metal flow and air evacuation.
We use data derived from the casting simulations to develop the gating, risers and ejection systems. After the final process is optimized, they can start cutting the molds.
Knowledge, preparation, execution: results
We're the one-stop shop for design and engineering assistance, as well as foundry production, machining and finishing.
Well-prepared designs and processes lead to optimal parts and successful projects.
Customers work closely with us to understand exactly how their investment is put to use. It's all made easy with guidance from friendly, professional foundry experts who have the product's best interests at heart.
Want to work together?
If you're ready to get to work on your next metalcasting project, give us a call and we will put our heads together on the best design and engineering solutions for your project.
We're here and ready to help you make the perfect permanent mold metal casting.