Every metalcasting is custom. There are 9 factors that affect the price of a casting.
Read to learn how castings are quoted so you can compare apples to apples when reviewing quotes.
1. Material
Which metal you're using plays a big role in cost. Alloy prices are different metal to metal, but exact prices can vary day by day. For example, aluminum is less expensive than copper, which is why it is more commonly found in long distance electrical wires.
Additionally, the weight of the material can affect the cost when you factor in labor. A 60-pound zinc part might have a higher labor cost than if that same part was made of aluminum.
Some common casting metals are…
Aluminum (we pour A356)
Zinc (we pour ZA12 and ZA5)
Bronze
Copper
Steel
Iron
Each has own benefits. The balance is finding an economical option that also performs well.
Aluminum
At Batesville Products, we cast A356. A356 is used across 70+ industries, is medical and food safe, and can be heat treated, anodized, and coated for versatile applications. Other advantages of aluminum include:
Lightweight
Flexibility
Strength
Corrosion Resistance
Conductivity
Heat Transfer
Recyclability
Zinc
At Batesville Products, we cast ZA5 and ZA12. These alloys are great when you need extra weight in a part, like for a dental chair base.
For highly aesthetic parts, zinc also can be mirror buffed or chrome plated.
2. Design for Manufacturing
Designing with the manufacturing process in mind saves time, and time is money!
Your design and manufacturing method must match. For example, in order to manufacture in the permanent mold process, your design must have a minimum draft and wall thickness.
When you design to what the manufacturing process is capable of, you'll optimize manufacturability and eliminate the need for additional operations.
Use this guide to make sure your design is manufacturable.
3. Order Quantity
For each casting process, you must purchase a mold, referred to as tooling. The manufacturing process you use is typically driven by your EAU. When your EAU aligns with the casting process, you get the best ROI by balancing tooling cost and piece price.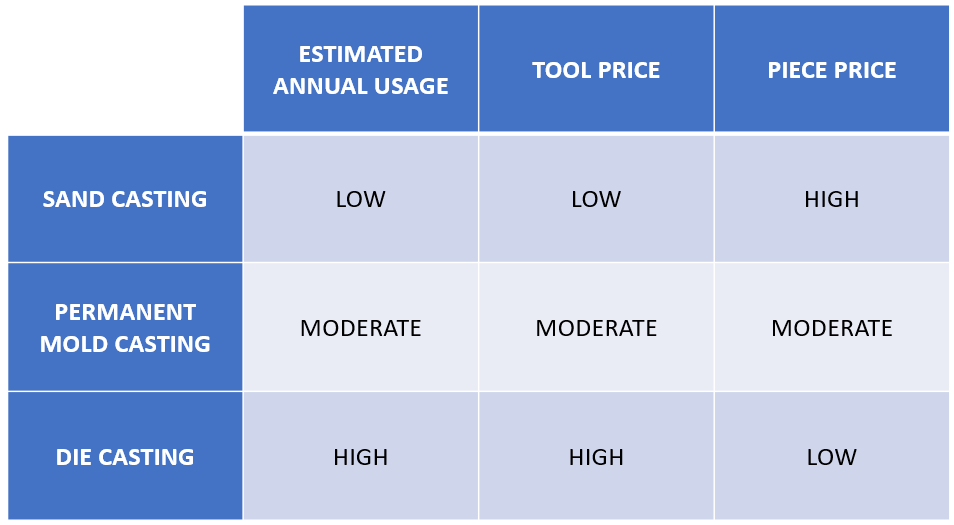 For example, If you are looking to manufacture 10 parts a year, you wouldn't want to invest in a $50,000 die cast mold. However, if you are manufacturing 100,000 parts a year, you would see a return on investment in a die cast mold.
Permanent mold casting is ideal for moderate volume production and has a tooling cost between sand and die casting. Permanent mold casting also tends to have lower porosity than sand or die casting, which leads to better surface finish, less defects, and easy machinability.
4. Part Complexity & Size
Part complexity and size impacts the cost. Not only does the design affect the product itself, but it also affects the manufacturing process.
Isolated Thick or Thin Sections
Walls of with drastic thickness changes can impact metal flow and solidification, which makes your part less manufacturing-friendly. Castability issues will affect the production rate.
There are features you can add into the mold to help maximize flow and minimize shrinkage, but this will impact your tooling costs. Therefore, it is best to eliminate isolated thick or thin sections before they can cause issues in production. Design for manufacturing!
Gating and Risers
Complex castings may require more complex gating and riser systems. It's important to note that gating and risers will add weight to your product during the casting process, until the excess material is sawed off.
In other words, if your final product is 90 pounds, it might be 120 pounds with gating, which will add heavy labor costs and extra material costs.
Pulls, Cores, and Inserts
With the permanent mold process, you can cast in many complex features, like ribs or even a logo. Cast-in features can save on machining and assembly costs.
If you're looking to minimize secondary machining time, sand cores or pulls can be used to cast-in hollows.
To decrease assembly costs, you can also cast in inserts. For example, this tubing was cast into the product, rather than assembled on as a secondary operation.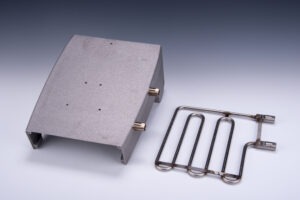 These features help your near net shape castings get as close as possible to the blueprint without secondary operations.
Multi-Cavity Mold
This is a game changer with tooling costs.
1 Mold Makes 2 of the Same Part
Set up charges, cycle time, and labor all affect the price of casting. The key to saving money is making your product as efficient as possible.
Depending on the size of your part, you may be able to fit more cavities into the mold. This means instead of casting 1 part at a time, you could make two at once – doubling efficiency!
Adding multiple cavities into one mold will slightly uptick your tooling costs, but the investment will multiply your output and decrease piece price.
1 Mold Makes 2 Different Parts
There are special circumstances where you can cut your tooling costs in half! If you're looking to manufacture two similar products with slight differences, consider this!
Instead of purchasing two tools, you might be able to purchase one tool that cast a generic version with the similarities of the parts. Then, add a secondary machining operation that turns this generic casting into two unique parts!
5. Secondary Machining
A secondary machining operation is normal to touch up the casting and ensure all critical specs are met. You save money by machining from the near-net shape casting rather than machining from stock and welding pieces together.
However, machining costs can quickly increase if your tolerances are extremely tight. Are your tolerances tighter than the casting process is capable of? Then you'll need to add a more in-depth secondary machining operation.

Too tight of tolerances can increase your spindle time, increasing cost. Another added cost you can expect in any machining operation is a custom fixture. Very complex machining could also be split into multiple machining operations, each with its own fixturing.
Ultimately, your goal should be to design your product with the casting process in mind, making the as-cast part as close to the final product as possible. This will help you save money on secondary operations.
6. Mechanical Properties
You can add secondary operations that modify the mechanical properties of your casting.
Heat Treat
Heat treatment refers to when an already cast aluminum part is heated at a high temperature and systematically cooled to increase material strength and hardness, reduce stress, increase stabilization, improve machining ability, or change its properties.
Impregnation
Casting impregnation seals all porosity (even the slightest microporosity) in castings, making it leak-free and pressure-tight.
7. Inspection
Inspection requirements can quickly affect costs.
When getting a quote, find out what kind of inspection is included (if any). Ask your supplier about ISO:9001 certification. It's important that key specs are highlighted on your prints and that there is clear communication of expectations between the supplier and the customer.
At Batesville Products, we provide a First Article Inspection (FAI) at no added cost and have quality procedures in place to prevent the customer from receiving defective product.
Additional inspection costs can include…
PPAP (varying levels at varying costs)
Certifications
Liquid penetration testing
Pressure testing
8. Surface Finish
Is the part hidden in assembly? Then you might be able to save money on finishing, unless the part must be enhanced for corrosion resistance, insulation, or conductivity.
Highly visible, aesthetic products have a variety of options when it comes to surface finish.
As-Cast
Permanent mold castings typically have a high quality 200-420 RMS finish.
Grit Belt Polishing
We can polish castings with various grit strengths to create a finer surface.
Stainless Steel Shot Blast
Shot blasting creates a consistent, textured surface.
Mirror Buff or Plated
This process makes zinc products reflective and shiny. Perfect to show-off.
Power Coat or Paint
This common finish creates a colorful, stand-out product. Coatings can also be optimized for insulation, conductivity, or protection.
Chromate
Chromated parts are highly conductive.
Anodize
Anodized products receive extra protection. While aluminum is naturally rust-resistant, anodizing protects from all other forms of corrosion.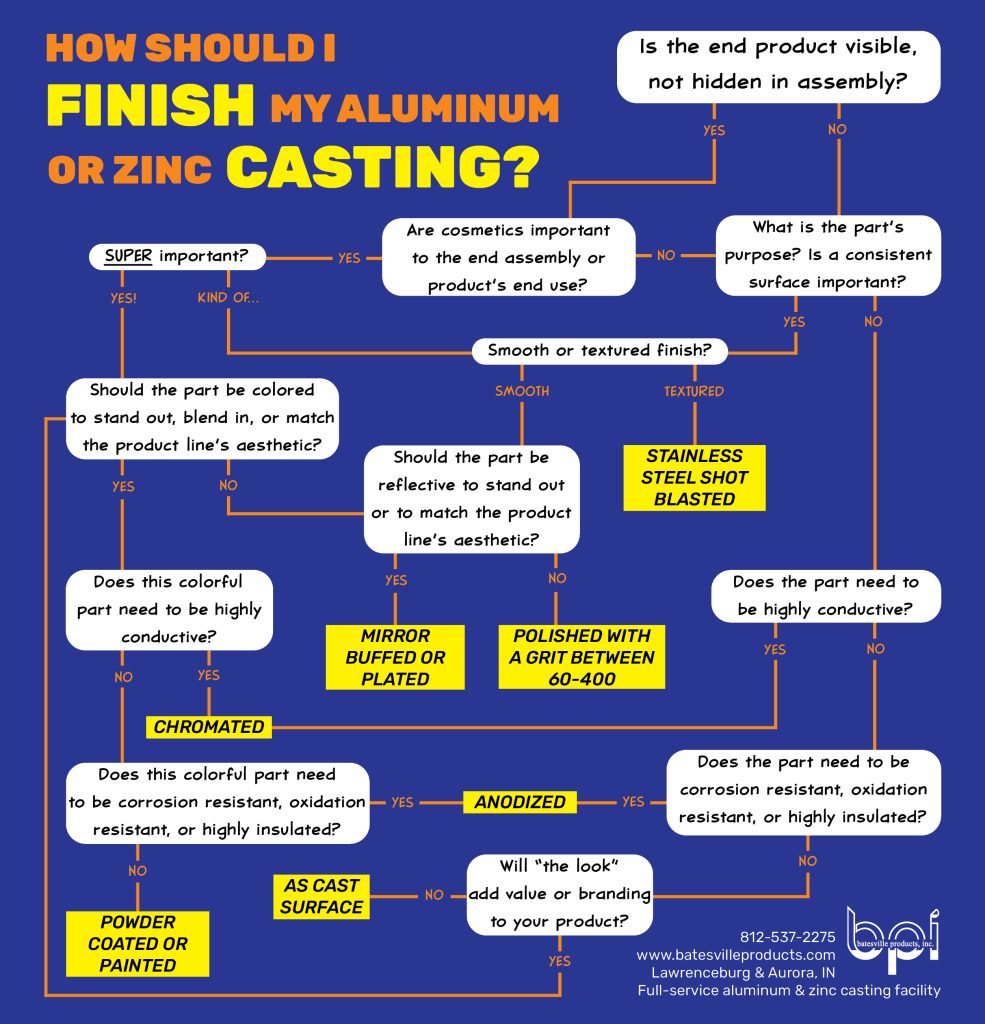 9. Packaging
Compare packaging and shipping options when reviewing quotes. What's included?
Communicate your packaging and shipping expectations with the supplier upfront so there aren't any surprise fees. If you plan to use custom, special packaging, you might see an added cost.
Will you provide the packaging, or do you expect the supplier to provide packaging?
Should each product be wrapped individually?
Are your products powder coated and need extra protection?
One great way to save is through reusable, returnable dunnage. Some customers send us crates, we fill them with their product, send it back, they empty the crates, and the cycle repeats.
Get a Free Quote
Contact Batesville Products today for a free permanent mold casting quote.
For over 75 years, we've been casting, machining, and polishing aluminum components for 70+ industries nationwide.