The Customer: Medical Cart
This customer is in the medical industry. This casting is a small component of a medical cart.
The product needed hollow channels to house electrical components, and a clean and professional appearance to seamlessly integrate with their high-end equipment.
The Challenge: Small but Mighty
The challenge was twofold: creating a small part with intricate internal hollows for wiring, while ensuring an aesthetically pleasing appearance that aligned with the brand's medical equipment.
Meeting these requirements demanded a comprehensive approach combining innovative casting techniques, secondary machining, and precision finishing.
The Solution: Full-Service Product
We created a semi-permanent mold casting with important secondary machining and powder coating operations.
This part is a perfect example of the full services we can do here at Batesville Products- all packed into one small casting!
Multi-Cavity Tooling
Traditionally, one reusable permanent mold makes one casting at a time.
Due to the casting size, we were able to fit multiple cavities into the mold. This means instead of casting 1 part at a time, we poured two at once – doubling efficiency!
Sand Core
To create the hollow channels for the wiring, we used a technique called semi-permanent mold casting. We made a sand core to form the internal voids in the part. After the part is cast, the sand core is removed, leaving the perfect channel to hide and protect electrical wires.
Sand cores are a non-reusable component in casting. Typically, you need one sand core per part.
By optimizing the design, we were able to cast two parts on each sand core.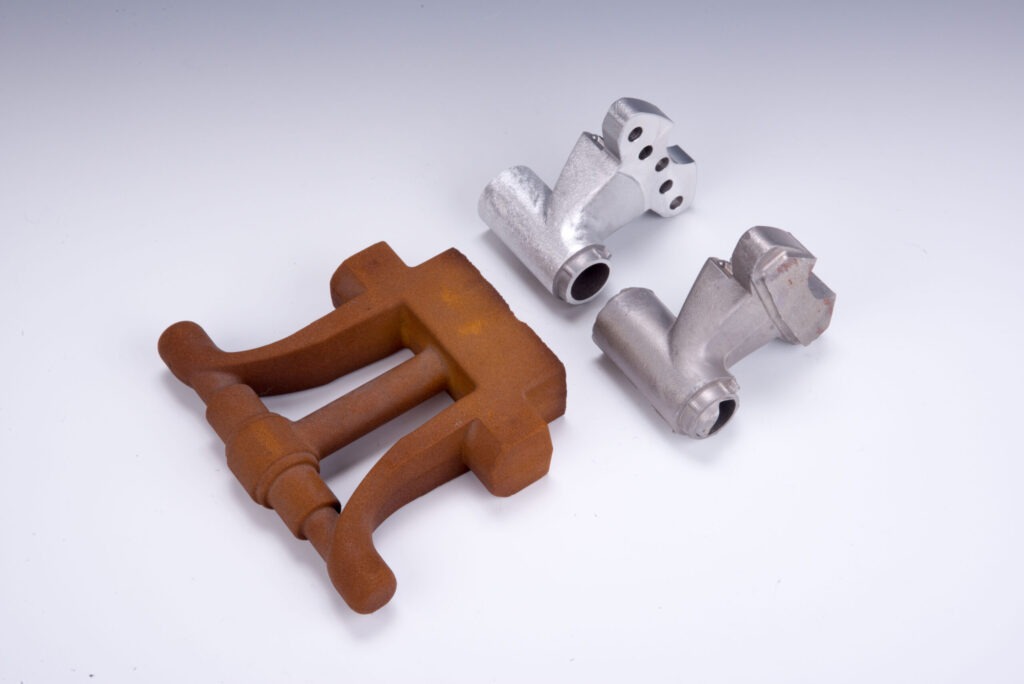 Machining
We performed a quick secondary machining operation to add precise threading to the part, ensuring it could be easily assembled onto the medical cart.
Our skilled machinists took great care to make sure the dimensions were accurate and the part functioned properly.
Powder Coating
Finally, the part was polished and powder coated a light grey to match the aesthetics of the brand's medical equipment.
Often, the medical industry needs low-porosity castings with a high-quality surface finish. Not just for aesthetics, but for functionality. Low-porosity castings keep germs & liquids OUT, improving the longevity and sanitation of the equipment.
The Outcome: Precise Medical Equipment
With great communication of expectations and 75 years of experience under our belts, together we built a compact, complex product that met the customer's exact specifications.
The part seamlessly integrated with their high-end medical cart, a testament to our precision, quality, and aesthetics.
This is one of many medical equipment components that Batesville Product's helps produce.
Our expertise in custom permanent mold casting, coupled with machining and finishing, allows us to create complex parts that look great and perform flawlessly for the medical industry.