Die casting and permanent mold casting are two common casting methods used to produce metal parts with high precision.
While both feature a reusable mold, there are key differences between them.
What's Die Casting?
In die casting, molten metal is pressure-injected into the mold at a high speed.
Die Casting Design Specs
Because of this feeding method, die casting can accommodate thinner walls and less draft. Die castings are known as having one of the best as-cast surface finishes (typically 20-120 RMS).
Die Casting Use
Die casting is ideal for high volume production because of its high-speed casting and high tooling costs. Therefore, die casting is a very common manufacturing method for automotive and aerospace industries.
What's Permanent Mold Casting?
Unlike die casting, permanent mold castings are gravity-fed. The metal is poured into a cup, the mold tilts back at a machine-controlled rate, and gravity forces the metal into the mold.
Unlike pressure injections, the tilt pour process results in less metal turbulence, meaning less air bubbles are trapped in the casting. Lower porosity decreases the likelihood of defects in secondary machining or power coating operations.
Permanent Mold Design Specs
Permanent mold castings have a required wall thickness of 0.18 inches. This wall thickness ensures proper fill of the mold during the gravity-fed process. More design requirements can be found here.
Permanent mold as-cast surface finish is typically 200-420 RMS. This is higher than die casting, but lower than sand casting. Note that because of lower internal porosity, permanent mold castings are easily polished, and this polishing will not reveal divots or pinholes.
Permanent Mold Use
Permanent mold is ideal for moderate-volume production due to manufacturing speed and tooling cost. Permanent molds can be as low as 1/5 of the price of die casting molds! Therefore, it's commonly used to manufacture pressure-tight vessels, utility equipment, medical equipment, and food equipment.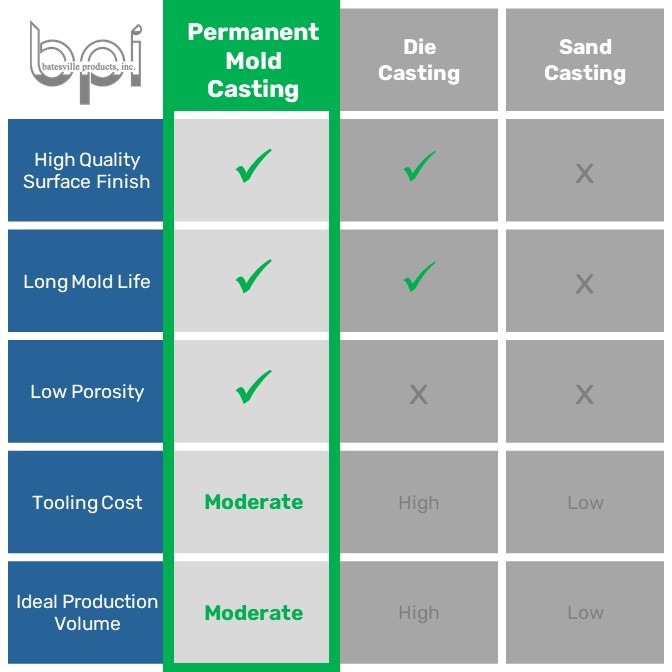 Metal Casting Experts
Still not sure which manufacturing method is best for your product? Give us a call and we'll point you in the right direction!