6 Questions to ask when choosing a supplier
It's important you pick the right manufacturer for your design. Can they make it effectively and efficiently? Can I rely on them?
A strong supplier will…
Have experience in similar materials, sizes, complexities, and industries
Provide a complete part so you are not balancing multiple suppliers
Have a quality-control process in place
Have modern and well-maintained equipment (look for robotics, cleanliness, and safe practices!)
Be dynamic in communicating and problem solving
Here are 6 questions to ask when choosing a casting supplier.
1. What's the best way to manufacture my product?
Not every manufacturing process will be a good fit for your product. The best manufacturing method will readily meet design requirements, tolerances, and order quantities.
A good supplier won't force a project that's better suited for another manufacturing method. An honest supplier should be able to recommend manufacturing methods that best fit your custom project, even if it means losing your business.
For example, if you come to us with a small and thin project that will be most efficiently manufactured by machining, we will not force it into a casting.
2. Do you have experience in our industry?
The goal of this question is to evaluate their experience.
How long have they been in business?
Have they made a project of similar size, thickness, and complexity?
What are the top industries they serve?
Do they understand my industry's standards and regulations?
Are they loyal to a different industry?
Will I be treated equally as their other customers?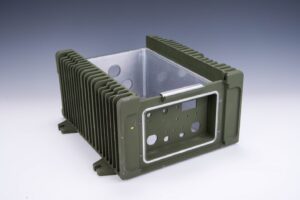 3. Do you cast primary or secondary metal?
What metals do you cast? Is it primary or secondary material? Can I see certifications?
At Batesville Products, we cast primary A356, ZA12, and ZA5.
Some industries like food or medical require primary material, while others can handle secondary material.
If the supplier uses secondary material, verify they flux or degas to maintain the metal and control porosity or inclusion defects.
4. What secondaries do you handle?
Your casting may require secondary operations, such as heat treat, machining, polishing, powder coating, anodizing, or plating.
Does this supplier handle everything in-house, or will you need to piece together multiple suppliers for one component?
Dangers of Balancing Multiple Suppliers
One gets delayed, all get delayed
Requires more time and attention, a limited resource in small purchasing teams
More time shipping/receiving into multiple places
Shipping costs
5. What certifications and testing do you do?
Each customer and industry has their own inspection requirements. If you require a lot of testing, choose a supplier that can test in-house or has close contacts in the inspection industry.
Common inspection options include FAI, PPAP, liquid penetration testing, pressure testing, and more.
There are many certifications in the foundry industry, such as material certification or heat treat certification. Which do you need? Does your supplier regularly provide these certifications?
6. How do you ensure quality standards are met?
The first step to ensure quality standards are met is to clearly communicate expectations. Document quality standards on prints and verify understanding of what's acceptable and unacceptable between all parties. The foundry will use these key specs to build an inspection process for your product.
Verify the supplier has quality control procedures in place. Are they ISO9001 certified? How frequently are parts inspected? What happens if my part is out of spec?
You're successful if your supplier is
Use these questions to discover the best supplier for your custom project!