Department: Machine Shop
Location: Lawrenceburg, IN
Job Title: Machinist
Reports to: Machine Shop Foreman
Type of Position: Full-Time
Are you mechanically inclined and take pride in your work? BPI is looking for practical, hands-on problem solvers to manage their own personal workstation. Your work M-F has a big impact; The things you make will be used across the country!
This is a career with room to grow. Through BPI's Pay4Skill program, you'll quickly advance in your career by completing free training during work hours. As you increase your skills, you'll also increase your pay!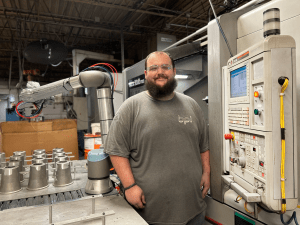 GENERAL DESCRIPTION:
The CNC machinist operates computer numerical control (CNC) machines to fabricate parts. The CNC machinist loads parts in the machine, cycles machine and detects malfunctions in machine operations, such as worn or damaged cutting tools. The position runs production lots, communicates with co-workers regarding productions runs, and maintains a safe, organized, and clean solo work environment.
ESSENTIAL FUNCTIONS:
Regularly performs milling, turning, drilling, tapping, de-burring, sawing and sanding task.
Detects and reports defective materials or questionable conditions to management or designee.
Maintains the work area and equipment in a clean, orderly condition and follows prescribed safety procedures.
Completes and maintains any necessary paperwork, documentation.
Assists in other work areas as needed.
KNOWLEDGE, SKILLS, AND ABILITIES:
Mathematical skills, mechanical capacity, technical capacity, time management and effective verbal and written communication skills required. Ability to learn our daily production management software.
EDUCATION AND WORK EXPERIENCE:
High School Diploma/GED, Trade School preferred but not required. Two years of recent work history with the same employer. 5 of our best CNC Machinists previously worked in maintenance, carpentry, packaging, construction, and manufacturing.
PHYSICAL DEMANDS:
Walking, Standing, sitting, listening, and talking on a wide variety and continual basis. Ability to lift up to 50 lbs. Movement generally throughout the manufacturing areas required. Ability to travel to both locations on a regular basis.
AVAILABLE SHIFTS
1st shift: Monday – Friday | 7:00AM – 3:30PM
2nd shift: Monday – Friday | 3:00PM – 11:30PM
3rd shift: Sunday - Thursday | 11:00PM - 7:30AM
WAGES:
$19 – $27 per hour, depending on experience
2nd shift receives a +$0.75 shift differential
3rd shift receives a +$1.00 shift differential
BENEFITS
Monthly Production Bonus program
Pay4Skill career advancement program
Overtime Pay
Health Insurance
Employer HSA Contribution
Vision Insurance
Dental Insurance
Short Term Disability
Long Term Disability
Life Insurance
Bereavement Leave
FMLA
Military/Reserve Leave
Simple IRA Retirement Plan
PTO
Paid Holidays
Tuition Reimbursement
Uniform and safety shoe reimbursement
Company Lunches & Swag
ABOUT BATESVILLE PRODUCTS
Batesville Products, Inc. (BPI) is a family-owned manufacturing facility located in Lawrenceburg and Aurora Indiana. Every day, we design, pour, machine, and polish aluminum and zinc products to be sent to customers across the nation. We manufacture aluminum components for a variety of industries, such as fast-food fryers, dentist chairs, and medical carts. We're looking for down-to-earth, mechanically inclined people to join our team. If you're ready to make the next step in your career, apply now!